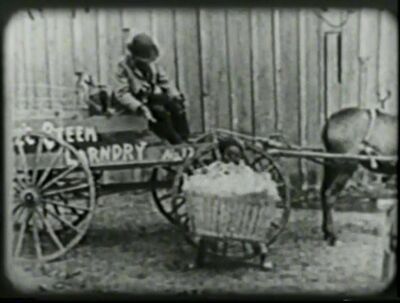 Bio
White's Steam Laundry is a family business, where the mother and father of Booker and Farina wash and deliver the clothes, respectively. The wagon is pulled by the family mule Lily, a frequently obstinate beast that gives Booker a hard time when he tries to harness her to the wagon. The business is spelled "White's Steem Larndry" on that wagon.
There is no explanation why the name of the business is "White" while the family's name is apparently "Bacon," according to the title card introducing Booker T. Bacon.

Shorts
---
Ad blocker interference detected!
Wikia is a free-to-use site that makes money from advertising. We have a modified experience for viewers using ad blockers

Wikia is not accessible if you've made further modifications. Remove the custom ad blocker rule(s) and the page will load as expected.