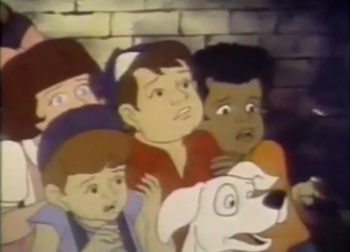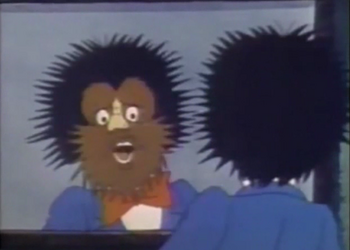 Production Notes
Length: Eleven Minutes
Producer: Oscar Dufau, Bill Hanna, and Joseph Barbera
Director: Unrevealed
Writer: Unrevealed
Released: September 10, 1983
Studio: Hanna-Barbera Productions and King World Productions

Main Cast
The Short
Plot: In the wake of the popularity of 3-D movies in 1983, the Rascals are eager to see a 3-D horror movie, but Darla refuses to see it. After the boys arrive back home, Alfalfa eventually thinks he is a werewolf.

Quotes:
Notes/Trivia:
Later syndicated with Save Our Treehouse!
This episode marked the beginning of the series' second season. A clip of the episode was featured as part of the 1983 ABC Saturday Preview Special.
Porky rarely mentions the names of any of the Rascals, but he did manage to utter Darla's name in this episode, and also in The Zero Hero.
Sequence
---
Ad blocker interference detected!
Wikia is a free-to-use site that makes money from advertising. We have a modified experience for viewers using ad blockers

Wikia is not accessible if you've made further modifications. Remove the custom ad blocker rule(s) and the page will load as expected.