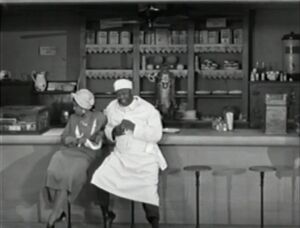 Bio
The Third Street Eatery is a local Greenpoint sidewalk diner on Third Street near Broadway. The chef and possible owner sits with his sweetheart out front until Cotton The Chimp shows up and scares them off, but not before stealing a kiss. Cotton also gives Spanky McFarland a glass of water with pie from here before trying to fry a burger for him. He also spills some popcorn, sniffs some ammonia and sips from a bottle of liquor before launching into a drunken binge.

Shorts
---
Ad blocker interference detected!
Wikia is a free-to-use site that makes money from advertising. We have a modified experience for viewers using ad blockers

Wikia is not accessible if you've made further modifications. Remove the custom ad blocker rule(s) and the page will load as expected.