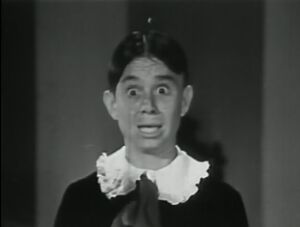 Production Notes
Length: One Reel
Producer: Sam Coslow
Director: Josef Berne
Photography:
Editor:
Titles: None
Writer:
Released: 1941
Studio: Minoco Productions, Inc. and Soundies Distributing Corporation of America, Inc.

Main Cast
Supporting Cast
The Short
Plot: Alfalfa pays a visit to his singing teacher Prof. Pierre Blotto, who also works as a barber. Alfalfa visits the barber shop for another lesson. The teacher is reluctant to let his pupil sing, especially since he is in the middle of giving a customer a shave. Once Blotto gives in, Alfalfa belts out an off-key rendition of "Goodbye!" The customer is scared away and a now furious Blotto leaves his shop.
Quotes:
"Get out, get out, get out, get out, get out, get out, get out! All right, I'll give you one more lesson. Go ahead and shout." - Prof. Pierre Blotto (singing)

Notes/Trivia:
---
Ad blocker interference detected!
Wikia is a free-to-use site that makes money from advertising. We have a modified experience for viewers using ad blockers

Wikia is not accessible if you've made further modifications. Remove the custom ad blocker rule(s) and the page will load as expected.