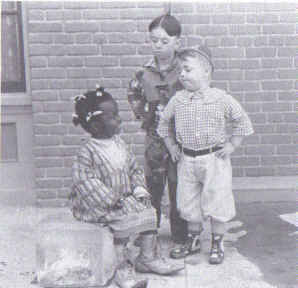 Length: Two Reel
Producer: Hal Roach
Director: Gus Meins
Photography: Louis McManus
Editor:
Titles:
Writer: Hal Roach
Released: March 14, 1936
Studio: M-G-M

Main Cast
Supporting Cast
The Short
Plot: Scotty and his grandpa, Gus, have a mobile lemonade business, but they soon run afoul of Leonard and his father, who have replaced their novelty store with their own fruit juice store. Believing the lemonade stand cuts into their business, they chase off Scotty and his grandpa from their street corner; the two of them welcomed to share the corner of Buckwheat's father, a bootblack. The gang rallies to Scotty's aide with a parade and a show to drum up business, but bratty Leonard seeks to sabotage their favor with the public. Instead, he gets stuck with a scalp-massaging apparatus into his trousers to the tune of "Stars And Stripes Forever."
Quotes:
Notes/Trivia:
Sequence
---
Ad blocker interference detected!
Wikia is a free-to-use site that makes money from advertising. We have a modified experience for viewers using ad blockers

Wikia is not accessible if you've made further modifications. Remove the custom ad blocker rule(s) and the page will load as expected.