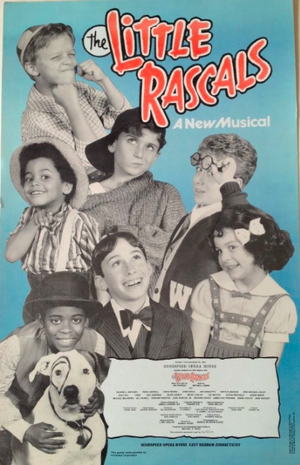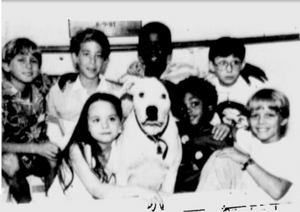 The Little Rascals was a short-lived stage musical based on Hal Roach's Our Gang comedies. The play was directed by Robert Nigro and choreographed by Marcia Milgrom Dodge, with songs written by Sesame Street composer Joe Raposo. The play was a notable early performance for then-unknown actors such as Dulé Hill and Jenna von Oÿ. It premiered at the Goodspeed Opera House on October 7, 1987 and closed on December 20, 1987.
Production Notes
Length:
Producer: Frannie Lee
Director: Robert Nigro, Lynn Crigler (musical director), Michael P. Price (executive director)
Choreography: Marcia Milgrom Dodge
Writer: Michael Loman, Joe Raposo (music and lyrics)
Conductor: Mark C. Mitchell
Scenery: James Leonard Joy
Costumes: Frannie Lee
Lighting: Craig Miller
Released: October 7, 1987 through December 20, 1987
Theater: Goodspeed Opera House

Main Cast
Betsy Joslyn
Dulé Hill - Stymie
Devon Michaels - Waldo
Eric Michael Hailey
Erick Devine
Eugene J. Anthony
Jake - Pete the Pup
Jason Minor - Spanky
Jenna von Oÿ - Darla
Joe Duquette - Joe Hood
John Deyle
Ken Jennings
Kevin Joseph
Richard Schuh
Ronn Caroll
Supporting Cast
Anita Flanagan
Edward Prostak - P.P. White
Jack Rowles, Jr.
James Van Treuren - Rev. J. Walter Peckinworth
Jane Wasser
Jill Powell
Lee Mathis
Michael Mulheren
Rollie Mayo
The Short
Plot: Spanky, Alfalfa, Stymie, Buckwheat, Scotty, Darla, Pete, and the rest of the Gang plot to save their clubhouse from demolition by the local bad guy politicians of Maribelle Corners.

Quotes:
Notes/Trivia:
Music conductor Mark C. Mitchell met his future wife, actress Betsy Joslyn, during production.

Pete the Pup was played by a live dog named "Jake".

---
Ad blocker interference detected!
Wikia is a free-to-use site that makes money from advertising. We have a modified experience for viewers using ad blockers

Wikia is not accessible if you've made further modifications. Remove the custom ad blocker rule(s) and the page will load as expected.