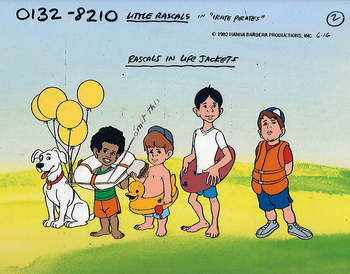 Production Notes
Length: Eleven Minutes
Producer: Oscar Dufau, William Hanna, and Joseph Barbera
Director: Unrevealed
Writer: Unrevealed
Released: November 6, 1982
Studio: Hanna-Barbera Productions and King World Productions

Main Cast
The Short
Plot: On the beach, the Rascals find a bottle containing a treasure map. They follow the map's directions to Treasure Island, but all the while are being watched by two adult males dressed as pirates.
Quotes:
Notes/Trivia:
This episode holds the distinction of being the only episode with Darla wearing a bikini, and the only episode that Darla does not wear her usual wardrobe for an entire 11-minutes cartoon.
Originally aired with All The Loot That's Fit To Print and The Spare.
Sequence
---
Ad blocker interference detected!
Wikia is a free-to-use site that makes money from advertising. We have a modified experience for viewers using ad blockers

Wikia is not accessible if you've made further modifications. Remove the custom ad blocker rule(s) and the page will load as expected.