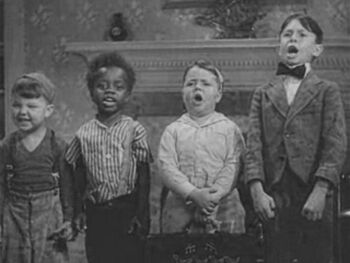 Biography
The Four Nitengales (their spelling, they mean nightingales) are a singing group of Spanky, Alfalfa, Buckwheat and Porky. However, despite the repetoire of songs they can sing individually, the only song they known together is "Home Sweet Home." Darla's father and little brother, Junior, are not exactly big fans of theirs. They sing at the Hood Residence one time, and stay the night when a bad storm traps them in the house.

Shorts
---
Ad blocker interference detected!
Wikia is a free-to-use site that makes money from advertising. We have a modified experience for viewers using ad blockers

Wikia is not accessible if you've made further modifications. Remove the custom ad blocker rule(s) and the page will load as expected.