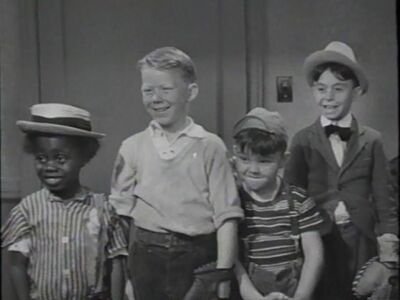 Production Notes
Length: One Reel
Producer: Hal Roach
Director: Nathan Watt
Photography: Nobert Brodine
Editor: William Ziegler
Titles:
Writer:
Released: May 28, 1938
Studio: M-G-M

Main Cast
Supporting Cast
The Short
Plot: Alfalfa discovers the club treasury is 20c short of the $3 they need to buy a catcher's mitt they see in a sporting goods store window, so when Buckwheat comes around with a dime from the Tooth Fairy (or "Good Fairy", as the Gang call him), Alfalfa reasons they could amass a small fortune from all of their teeth. They head to see dentist Dr. Schwartz and ask to have their teeth pulled to buy baseball equipment. Naturally, Schwartz and his nurse are horrified by the request, but they hope to scare the boys straight. Schwartz gathers a formidable array of tools, including a hacksaw and a mallet, to stage the scene, but behind the boys' backs, he and his nurse, Miss Rogers can barely keep a straight face. Buckwheat even starts praying at one point. As Schwartz heads in to start pulling teeth, Alfalfa jumps up terrified; the scare has worked. At that moment, Schwartz asks his nurse if it was the Good Fairy he just heard, and she adds that he just left. Schwartz then turns over to the boys a glove, two baseballs, and a catcher's mitt.
Quotes:
Notes/Trivia:
Sequence
---
Ad blocker interference detected!
Wikia is a free-to-use site that makes money from advertising. We have a modified experience for viewers using ad blockers

Wikia is not accessible if you've made further modifications. Remove the custom ad blocker rule(s) and the page will load as expected.