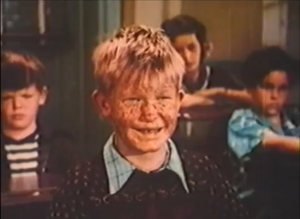 Profile
Name: Thomas Jones
Nickname: Specks
Played By: Dale Belding
Born: 1934
First Short: Curley
Last Short: Who Killed Doc Robbin

Character
Bio: Tommy, known to his friends as "Specks", is a bashful, freckle faced boy. He is a member of Curley's gang and a student at Lakeview School. He assists Curley in his scheme to get rid of the new schoolteacher by letting loose a bottle of ants, and later (reluctantly) joins Curley and the gang as they try to solve the alleged murder of Doctor Robbin.
Quotes:
Trivia
---
Ad blocker interference detected!
Wikia is a free-to-use site that makes money from advertising. We have a modified experience for viewers using ad blockers

Wikia is not accessible if you've made further modifications. Remove the custom ad blocker rule(s) and the page will load as expected.