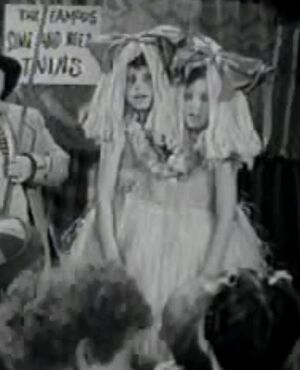 Bio
The "World Famous Sime And Neez Twins" are played by two local boys named Malcolm and George Crosby, possibly classmates of Spanky and Alfalfa from Greenpoint Grammar School. Their costume is one of the attractions in the freak show of Our Gang's Xtra Big Circus. The brothers are made to appear conjoined by wearing a single large grass skirt, but the effect is ruined when Violet, the neighborhood goat, eats enough of the skirt to make it fall apart.

The Sime And Neez Twins were played by child actors Malcolm and George Crosby.

Shorts
---
Ad blocker interference detected!
Wikia is a free-to-use site that makes money from advertising. We have a modified experience for viewers using ad blockers

Wikia is not accessible if you've made further modifications. Remove the custom ad blocker rule(s) and the page will load as expected.