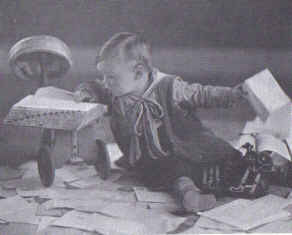 Length: Two Reel
Producer: Robert F. McGowan
Director: Anthony Mack
Photography: Art Lloyd
Editor: Richard Currier
Titles: H. M. Walker
Writer: Hal Roach
Released: November 17, 1928
Studio: M-G-M

Main Cast
Supporting Cast
May Wallace - Harry's Mother
The Short
Plot: Summer is over, and the kids unhappily march off to school reluctant to miss fishing, swimming and the circus. Joe Cobb goes as far as trying to forge a note from his mother to get out of school in a scheme that fails. Harry Spear writes a note reporting his mother has broken both her legs and needs him at home, but the scheme is ruined when she walks to the school for an appearance. Meanwhile, too young for school, Wheezer decides to go fishing. The sight of his fish distracts some seals, who escape from the circus and follow Wheezer past the schoolhouse, creating a disturbance.
Quotes:
Notes/Trivia:
Maltin and Bann reported this short was unavalable for viewing. The Museum of Modern Art has a 35mm copy of the film.

This short would seem to be the inspiration for Fish Hooky.

Sequence
---
Ad blocker interference detected!
Wikia is a free-to-use site that makes money from advertising. We have a modified experience for viewers using ad blockers

Wikia is not accessible if you've made further modifications. Remove the custom ad blocker rule(s) and the page will load as expected.