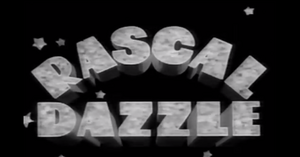 Production Notes
Length: Nine Reels
Producer: Edward Glass, Robert King, and Michael King
Director: Edward Glass, Bill Focht, and Arnold Leibovit
Photography: None
Editor: Edward Glass and Arnold Leibovit
Titles: None
Writer: Jack Kuney, Morton Silverstein, and Milt Tatelman
Music: Nelson Riddle
Released: 1985
Studio: King World

The Short
Plot: Rascal Dazzle was a television special/compilation of Little Rascals films from the Hal Roach talkie era (1929-1938). Narrated by Jerry Lewis, the special included clips from Pay As You Exit, Mama's Little Pirate, Our Gang Follies Of 1938, Mail And Female, Fish Hooky, Teacher's Pet, Little Sinner, The Pinch Singer, Roamin' Holiday, Hook And Ladder, Free Wheeling, Spooky Hooky, For Pete's Sake!, Readin' And Writin', Birthday Blues, Washee Ironee, Anniversary Trouble, Hi'-Neighbor!, Second Childhood, The Pooch, Mush And Milk, Shrimps For A Day, The Lucky Corner, Mike Fright, Spanky, Wild Poses, Reunion In Rhythm, Little Papa, Teacher's Beau, Bored Of Education, Two Too Young, Sprucin' Up, Love Business, Hearts Are Thumps, Three Men In A Tub, The Pigskin Palooka, The First Seven Years, Helping Grandma, Night 'N' Gales, Fishy Tales, Rushin' Ballet, Framing Youth, Beginner's Luck, Our Gang Follies Of 1936, Bear Facts, Honky-Donkey, Feed 'Em And Weep, Choo-Choo!, Shivering Shakespeare, When The Wind Blows, Divot Diggers, Pups Is Pups, and Came The Brawn
Quotes: Notes/Trivia:
---
Ad blocker interference detected!
Wikia is a free-to-use site that makes money from advertising. We have a modified experience for viewers using ad blockers

Wikia is not accessible if you've made further modifications. Remove the custom ad blocker rule(s) and the page will load as expected.