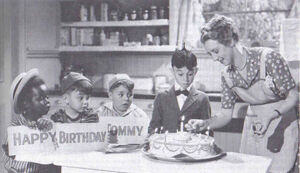 Production Notes
Length: One Reel
Producer: Jack Chertok
Director: George Sidney
Photography: Unrevealed
Editor: Unrevealed
Titles: Unrevealed
Writer: Hal Law and Robert A. McGowan
Released: December 17, 1938
Studio: M-G-M

Main Cast
Supporting Cast
The Short
Plot: Butch has been playing practical jokes on everyone in the neighborhood. Alfalfa has been the focus of most of them, so they plan ahead to his twelfth birthday party to get even with him for all the pranks. Intercepting the birthday pineapple cake, they replace one of the candles with a firecracker, but things go wrong when Butch's mother asks Alfalfa to sing a birthday song for Butch. This means Alfalfa is right over the cake when it explodes, sending cake spraying over the entire room when it goes.
Quotes:

Notes/Trivia:
Sequence
---
Ad blocker interference detected!
Wikia is a free-to-use site that makes money from advertising. We have a modified experience for viewers using ad blockers

Wikia is not accessible if you've made further modifications. Remove the custom ad blocker rule(s) and the page will load as expected.