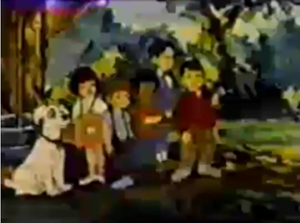 Production Notes
Length: Eleven Minutes
Producer: Oscar Dufau, William Hanna, and Joseph Barbera
Director: Unrevealed
Writer: Unrevealed
Released: November 19, 1983
Studio: Hanna-Barbera Productions and King World Productions

Main Cast
The Short
Plot: Pete saves a girl's puppy, Rita, from drowning. The girl's father, an African-American TV producer named Mr. James, rewards Pete by giving him a job as the star of a live TV commercial that he is producing and directing. The Rascals go about rehearsing Pete for the commercial, which requires him to eat a can of dog food. Pete rehearses too much, and becomes too sick to be in the commercial. Spanky has Alfalfa dress up in a dog costume and pretend to be Pete, but Rita suspects something is up. The commercial is nearly ruined, but Mr. James and his daughter admit that the finished product was humorous. They are rewarded with a month's supply of dog food for Pete.

Quotes:
Notes/Trivia:
Sequence
---
Ad blocker interference detected!
Wikia is a free-to-use site that makes money from advertising. We have a modified experience for viewers using ad blockers

Wikia is not accessible if you've made further modifications. Remove the custom ad blocker rule(s) and the page will load as expected.