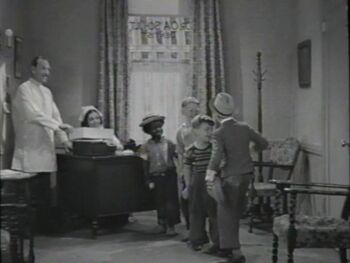 Biography
Parker Painless Dentistry is the only other dental clinic in Greenpoint, other than Hood Dentistry. The resident dentist here is Dr. Schwartz. Alfalfa and the gang come here to get enough of their teeth pulled to buy baseball equipment, but Dr. Schwartz scares them long enough to send his assitant, Miss Rogers, to buy the gear for them.
Shorts
---
Ad blocker interference detected!
Wikia is a free-to-use site that makes money from advertising. We have a modified experience for viewers using ad blockers

Wikia is not accessible if you've made further modifications. Remove the custom ad blocker rule(s) and the page will load as expected.