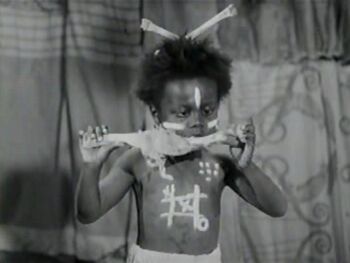 Bio
Oogie-Boogie, the Wildman from Borneo, is the one of the characters in the freak show of Our Gang's Xtra Big Circus. The inspiration for this character may well be Bumbo from The Kid From Borneo, with whom Spanky had an interesting encounter. Played by Buckwheat, Oogie-Boogie chews on a large turkey leg and utters "Oogie-Boogie, Oogie-Boogie, Oogie-Boogie."

Shorts
---
Ad blocker interference detected!
Wikia is a free-to-use site that makes money from advertising. We have a modified experience for viewers using ad blockers

Wikia is not accessible if you've made further modifications. Remove the custom ad blocker rule(s) and the page will load as expected.