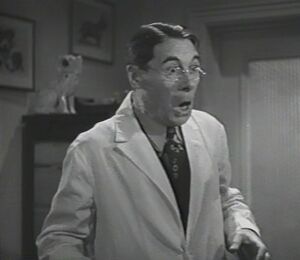 Bio
O.T. Hertz is a local Greenpoint veterinarian specializing in both household and exotic pets, such as monkeys. It's his office near the school that Spanky, Alfalfa and Buckwheat visit to manufacture an epidemic to close down school. Hertz not only puts the kibosh on their would-be hoax, but his work somehow convinces Spanky and Alfalfa that he can turn Buckwheat into a monkey.
Dr. Hertz was played by Sidney Bracey, previously seen as the butler in Second Childhood.

Shorts
---
Ad blocker interference detected!
Wikia is a free-to-use site that makes money from advertising. We have a modified experience for viewers using ad blockers

Wikia is not accessible if you've made further modifications. Remove the custom ad blocker rule(s) and the page will load as expected.