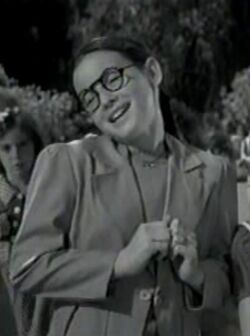 Bio
Muggsy is one of Alfalfa's paramours; her real name could be Henrietta since that name is used on occasion for her. She's also a close friend of Darla, Alfalfa's regular sweetheart, and is almost always seen wearing glasses. She attends the same grammar school as the Rascals, attends many of their shows and even takes over the lemonade stand for Alfalfa in Clown Princes. In Duel Personalities, she proves she cares much for for Alfalfa by telling Darla that he could get hurt while hypnotized.

Muggsy was played by Shirley Coates.

Quotes:
We could have got two cents for that too if the goat hadn't drank out of it." - Muggsy in Clown Princes

Shorts
---
Ad blocker interference detected!
Wikia is a free-to-use site that makes money from advertising. We have a modified experience for viewers using ad blockers

Wikia is not accessible if you've made further modifications. Remove the custom ad blocker rule(s) and the page will load as expected.