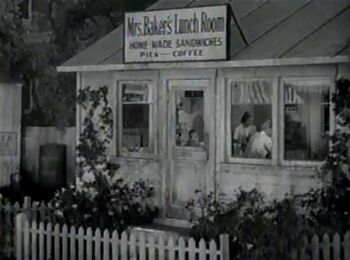 Bio
Mrs. Baker's Lunch Room is a local diner in Greenpoint. It's owned and run by Mary Baker, Mickey's mother, a widow at the time of Dad For A Day. According to the sign, she makes and serves home-made sandwiches, pies, and coffee. Bill Henry keeps ordering coffee to be near her, which causes him to neglect his service station. After he acts as Mickey's father for one day, Bill finally proposes, and after they are married, his station and her diner are combined into "'The Henrys' - Super Service & Lunch - Good Coffee."

Shorts
---
Ad blocker interference detected!
Wikia is a free-to-use site that makes money from advertising. We have a modified experience for viewers using ad blockers

Wikia is not accessible if you've made further modifications. Remove the custom ad blocker rule(s) and the page will load as expected.