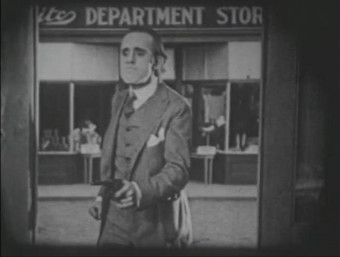 Bio
Mr. Jacobson is the rival merchant who owns a shop near Mrs. Nickol's. He demands his money or she and her daughter will have to close shop and suffer. Fortunately, Ernie and Pat are there to save the day. They get customers for Mrs. Nickol's store by scaring them away from Mr. Jacobson's store with a horse, a "rabid" dog, and even by stealing items from his store. They also mail packages, and the drunken Emil, to different addresses with the help of their mule. He sees more customers come to Mrs. Nickol's store and claims that she has stolen his customers. Then, he tries to attack her, but to no avail. Then, he chased away from the store by Bonzo.
Mr. Jacobson was played by Wallace Howe.
Shorts
---
Ad blocker interference detected!
Wikia is a free-to-use site that makes money from advertising. We have a modified experience for viewers using ad blockers

Wikia is not accessible if you've made further modifications. Remove the custom ad blocker rule(s) and the page will load as expected.