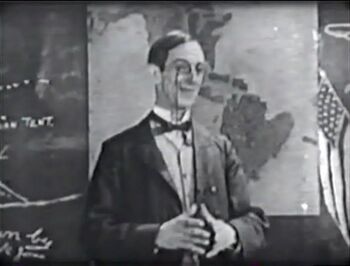 Bio
Mr. (George) French is the fifth-grade teacher for Mickey Daniels, Mary Kornman, Ernie Morrison and Joe Cobb. The name of his school is unrevealed, but it may be the same one-room schoolhouse for Mr. Finlayson. Unless it was moved to a new location in order to become the later Adams Street Grammar School, it remains unidentified. Mr. French also serves as the chaperone for the end of year commencement day ceremony plagued with incidents among the kids, particularly from Snoozer.
Mr. French was played by actor George B. French.
Shorts
---
Ad blocker interference detected!
Wikia is a free-to-use site that makes money from advertising. We have a modified experience for viewers using ad blockers

Wikia is not accessible if you've made further modifications. Remove the custom ad blocker rule(s) and the page will load as expected.