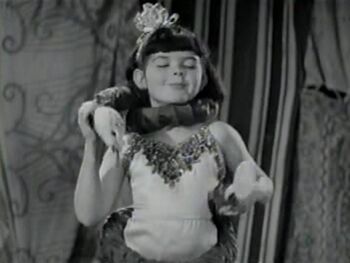 Bio
Mademoiselle Darla, the Greatest Rattlesnake-Charmer in the World, is the one of the characters in the freak show of Our Gang's Xtra Big Circus. Played by Darla, announcer Spanky claims that it took her almost 100 years to learn her trade. Her rattlesnake resemble a toy consisting of fabric around a long spring, a sock puppet head, and a toy rattle for a tail.

Shorts
---
Ad blocker interference detected!
Wikia is a free-to-use site that makes money from advertising. We have a modified experience for viewers using ad blockers

Wikia is not accessible if you've made further modifications. Remove the custom ad blocker rule(s) and the page will load as expected.