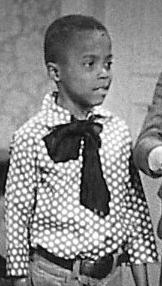 Bio
Philip "Lucky" Hurlic is one of the African-American boys who star in Spanky's Our Gang Follies Of 1936. He replaces Buckwheat in The Four Nitengales to follow Alfalfa and Porky to Darla's house to sing Happy Birthday to Dr. Hood in Feed 'Em And Weep, if but to frustrate Darla's father with his debate with Alfalfa on whether or not the characters of Tarzan and Flash Gordon could beat up each other in a fight. He appears to be close friends with Buckwheat Thomas, and is invited by Buckwheat to join the All-4-One Club, but decides to turn down the club's insurance policy in Cousin Wilbur (short).

Lucky was played by Philip Hurlic.

Shorts
---
Ad blocker interference detected!
Wikia is a free-to-use site that makes money from advertising. We have a modified experience for viewers using ad blockers

Wikia is not accessible if you've made further modifications. Remove the custom ad blocker rule(s) and the page will load as expected.