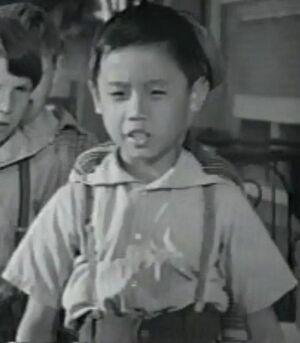 Bio
Lee Wong is a friend of Spanky McFarland; his father presses the suits for Spanky's father. It's not sure if he's the younger brother of an earlier boy seen in Washee Ironee, who Spanky gets to show them how to clean Wally Albright's clothes. Lee possibly attends Greenpoint Grammar School. Lee is harassed by Bully Chapman and Boxcar Smith in Baby Blues for being Chinese, but he shows the gang, especially Mickey Gubitosi, that there's nothing wrong with being Chinese.

Lee Wong was played by actor Edward Soo Hoo. His parents were played by Eddie Lee and Jennie Lee.

Shorts
---
Ad blocker interference detected!
Wikia is a free-to-use site that makes money from advertising. We have a modified experience for viewers using ad blockers

Wikia is not accessible if you've made further modifications. Remove the custom ad blocker rule(s) and the page will load as expected.