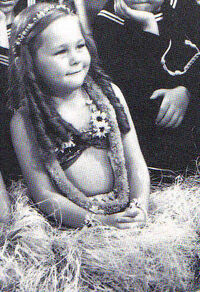 Bio
Laura June Williams is one of the neighborhood girls who sing and dance in Spanky McFarland's cellar shows, and as a number of Darla Hood's friends, possibly attends the same Dancing School like Gloria Brown. She plays one of the hula girls with Gloria in Spanky's Our Gang Follies Of 1938 and one of the tap dancing girls in his Aladdin And The Magic Lamp play. She's also present with Darla, Buckwheat and Waldo for Alfalfa Switzer's sky-writing stunt in Party Fever.

Laura June was played by actress Laura June Williams.

Shorts
---
Ad blocker interference detected!
Wikia is a free-to-use site that makes money from advertising. We have a modified experience for viewers using ad blockers

Wikia is not accessible if you've made further modifications. Remove the custom ad blocker rule(s) and the page will load as expected.