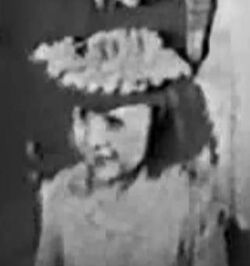 Bio
Lassie Lou (Ahern/Ahearn) is the brunette girl who appears often with Peggy Ahearn, who is possibly her sister. They appear in the audience of the Greenpoint Theater when the gang wrecks a show, at Little Rondamere's hotel and as passengers on Mickey Daniels's kiddie train. She's also the flower girl at the wedding for Mary Kornman's older sister, so perhaps their families know each other.

Lassie Lou was played by actress Lassie Lou Ahern, the real-life sister of Peggy Ahern.

Shorts
---
Ad blocker interference detected!
Wikia is a free-to-use site that makes money from advertising. We have a modified experience for viewers using ad blockers

Wikia is not accessible if you've made further modifications. Remove the custom ad blocker rule(s) and the page will load as expected.