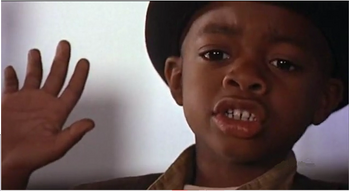 Biography
Character: Stymie Beard
Birthday: January 6, 1987
Place of Birth:
Date of Death:
Place of Death:
First Short: The Little Rascals (feature film)
Last Short: The Little Rascals (feature film)
Number of Shorts: 1
History: Kevin Jamal Woods is the eldest of two children born to Gary and Helen Woods. Already a child actor when he played Stymie in the The Little Rascals, he went on to star in a few more TV projects. He attended Bethune-Cookman University with a major in mass communication.
List of Shorts
Other Projects
A Perfect World (1993)
Blossom (1994) - TV Series (2006)
Babe (1995)
Hope
The Brainiacs
---
Ad blocker interference detected!
Wikia is a free-to-use site that makes money from advertising. We have a modified experience for viewers using ad blockers

Wikia is not accessible if you've made further modifications. Remove the custom ad blocker rule(s) and the page will load as expected.