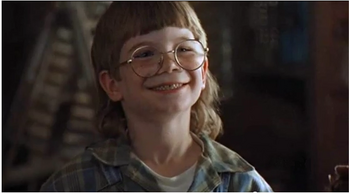 Biography
Character: Froggy
Birthday: November 21, 1986
Place of Birth:
Date of Death:
Place of Death:
First Short: The Little Rascals
Last Short: The Little Rascals
Number of Shorts: 1
History: Not much is known about Jordan Blake Warkol. When he starred in The Little Rascals, he had more credits to his name than any of the other kids. He's done commericials for McDonalds, Domino's Pizza and Flintstone Vitamins. He's also an animal lover with two dogs and a cat. The lizard he carries in the film was his own lizard. He also provided the voice of Chocolate Boy in Hey Arnold! on Nickelodeon.
List of Shorts
Other Projects
The Shaggy Dog (1994)
Grace Under Fire TV-Series (1994)
Thunder Alley TV-Series (1995)
Carpool (1996)
Sliders TV-Series (1996)
Baywatch TV-Series (1996)
Walker - Texas Ranger TV-Series (1997)
Beyond Belief: Fact Or Fiction TV-Series (1997)
The Modern Adventures Of Tom Sawyer (1998)
Milo (1998)
Thirst (1998)
A Bug's Life (1998) - voice only
7th Heaven TV-Series (2000)
The Specials (2000)
Songs In Ordinary Time (2000)
Judging Amy TV-Series (2001)
The X-Files TV-Series (2001)
Hey Arnold! TV-Series (2001)
Da Jammies (2006) - voice only
---