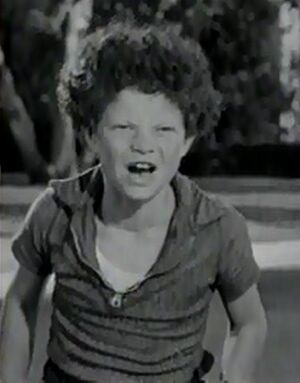 Bio
Joe Levine is one of the cronies who runs with Tommy "Butch" Bond and The Woim. He's in Butch's corner at his boxing match against Alfalfa Switzer, and he wears #24 in Butch's Assassins. Although he even attends Butch's birthday party in Practical Jokers, it seems Butch is always testing Joe's loyalty to him. Joe is the first kid Butch bullies to vote for him in the junior mayor contest in Party Fever, and his go-cart is the first one knocked out of the 1939 Annual Go-Cart Derby. Alfalfa also imagines Joe into Butch's gang in his The Little Ranger dream.

Joe Levine was played by actor Joseph Levine.

Shorts
---
Ad blocker interference detected!
Wikia is a free-to-use site that makes money from advertising. We have a modified experience for viewers using ad blockers

Wikia is not accessible if you've made further modifications. Remove the custom ad blocker rule(s) and the page will load as expected.