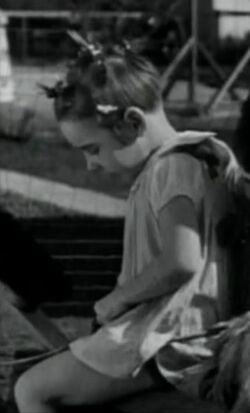 Bio
Jean (Aulbach) is a neighborhood kid on or near Cherry Street in Greenpoint. She could be the sister of Donald Proffitt. She's seen riding a sawhorse with him before Donald runs off to join Wally Albright and Spanky McFarland to meet the new kid in the neighborhood. She also dances a little bit, performing as a hula dancer on the radio just before The International Silver String Submarine Band auditions in a radio contest. It's uncertain if the cowboy seated next to her at the talent show is also Donald.
Jean was played by actress Jean Aulbach.

Shorts
---
Ad blocker interference detected!
Wikia is a free-to-use site that makes money from advertising. We have a modified experience for viewers using ad blockers

Wikia is not accessible if you've made further modifications. Remove the custom ad blocker rule(s) and the page will load as expected.