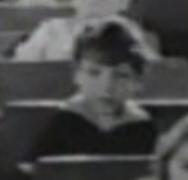 Bio
Henry Hanna is one of the students at Adams Street Grammar School with Miss Kornman, who replaces Miss Crabtree there as teacher. In school, his desk is behind that of Echo DeBorba. Henry also hangs out with Dickie Moore in the neighborhood, and when Dickie's Uncle George comes to town with the carnival, they get chased by Bumbo The Wild Man back to the Moore Residence.

Henry was played by child actor Henry Hanna.

Shorts
---
Ad blocker interference detected!
Wikia is a free-to-use site that makes money from advertising. We have a modified experience for viewers using ad blockers

Wikia is not accessible if you've made further modifications. Remove the custom ad blocker rule(s) and the page will load as expected.