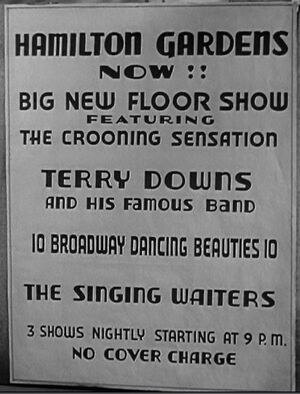 Bio
Hamilton Gardens is possibly a local Greenpoint restaurant gathering place for the upper class. Their live entertainment features Terry Downs And His Famous Band, ten Broadway dancers, and The Singing Waiters. Their poster near Waldo's lemonade stand inspires Spanky to try and copy the location in an old barn with the other kids singing and dancing.

Shorts
---
Ad blocker interference detected!
Wikia is a free-to-use site that makes money from advertising. We have a modified experience for viewers using ad blockers

Wikia is not accessible if you've made further modifications. Remove the custom ad blocker rule(s) and the page will load as expected.