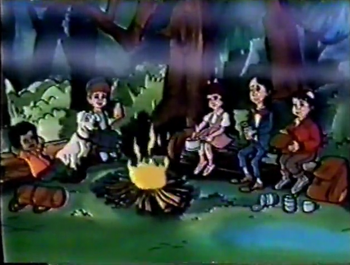 Production Notes
Length: Eleven Minutes
Producer: Oscar Dufau, William Hanna, and Joseph Barbera
Director: Unrevealed
Writer: Doug Booth
Released: October 2, 1982
Studio: Hanna-Barbera Productions and King World Productions

Main Cast
The Short
Plot: During the Rascals' hunting trip, Porky is abducted by the Phantom Lumberjack. Things only get worse when the kids get lost in the forest. When they find Porky in the cave of the kidnapper, they come across a pile of money. The Phantom turns out to be a bank robber in disguise. Thanks to a hungry bear, the kids manage to keep the robber tied down until Officer Ed can arrive to make an arrest.

Quotes:
Notes/Trivia:
Sequence
---
Ad blocker interference detected!
Wikia is a free-to-use site that makes money from advertising. We have a modified experience for viewers using ad blockers

Wikia is not accessible if you've made further modifications. Remove the custom ad blocker rule(s) and the page will load as expected.