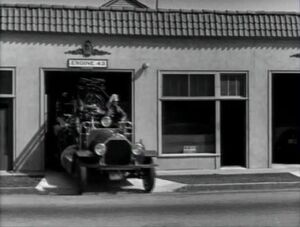 Biography
The Greenpoint Fire Department is the local fire fighting station for all of Greenpoint, outside the various Juinor Fire Departments created by Jackie, Farina and Dickie. The gang sometimes hangs around here in the summer getting splashed by the fire hoses and making friends with Fire Chief Cummings, now since retired. One of his successors is Fire Chief Robert Scott whose call for volunteer fire fighters in the community inspires Dickie Moore to create his own junior fire squad.
Shorts
---
Ad blocker interference detected!
Wikia is a free-to-use site that makes money from advertising. We have a modified experience for viewers using ad blockers

Wikia is not accessible if you've made further modifications. Remove the custom ad blocker rule(s) and the page will load as expected.