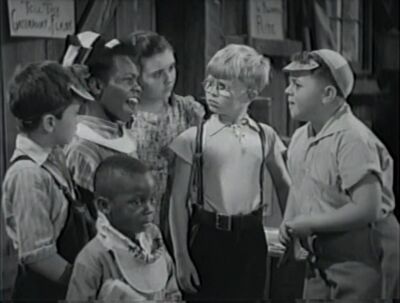 Production Notes
Length: One Reel
Producer: Metro-Goldwyn-Mayer
Director: Edward Cahn
Photography: Walter Lundin
Editor: Leon Bourgeau
Titles:
Writer: Robert A. McGowan and Hal Law
Released: March 7, 1942
Studio: M-G-M

Main Cast
Supporting Cast
The Short
Plot: Spanky and the gang have been putting out a newspaper called The Greenpoint Flash which they use to track down the mysterious leader of the Gas House Gang, a team of juvenile delinquents extorting money and harassing the younger kids. They're supported by Frank in their endeavor, but when they mention they might have information as to the leader of the Gas House Gang, he returns to take the evidence. As it turns out, he's been the leader they're looking for, but their evidence is a trap and they get him to sign a confession which they print in their paper. It's the last copy since a loose goat ends up eating their type.
Quotes:
Notes/Trivia:
Sequence
---
Ad blocker interference detected!
Wikia is a free-to-use site that makes money from advertising. We have a modified experience for viewers using ad blockers

Wikia is not accessible if you've made further modifications. Remove the custom ad blocker rule(s) and the page will load as expected.