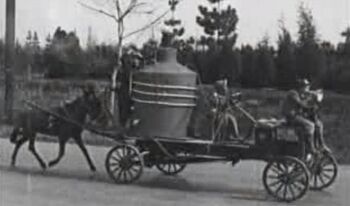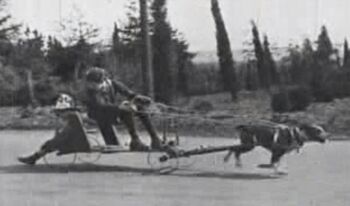 Bio
The Goat Alley Fire Department Fleet is the creation of the Goat Alley Fire Department, and consists of three animal-powered vehicles. The first vehicle contains a large boiler, filled with moonshine instead of the water the gang expects. This has "Enjine 1" painted on the front, is driven by Booker T. Bacon, and has probably George "Freckles" Warde and one unidentified boy on board. It is pushed by Lily the mule. The second vehicle is the hook and ladder driven by Peggy Cartwright, probably with Elmo Billings in back, and is pulled by Peggy's pony. The third is the chief's engine, driven by Richard Billings with chief Roosie in back, and is pulled by a dog, Officer T. Towser Barkus.

Inventors
Shorts
---
Ad blocker interference detected!
Wikia is a free-to-use site that makes money from advertising. We have a modified experience for viewers using ad blockers

Wikia is not accessible if you've made further modifications. Remove the custom ad blocker rule(s) and the page will load as expected.