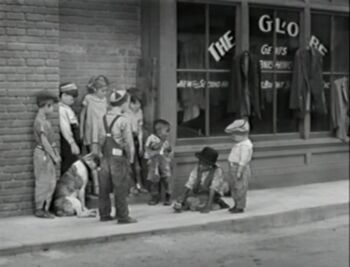 Bio
The Globe is a Greenpoint retail store; its front windows call it a New & Second Hand Store for gent's furnishings including hats, shoes, gold and silver. Dickie Moore and the gang are in the alley next door with a lamp they think is magical. Stymie Beard gets a watermelon from a nearby grocer as per his wish, and Spanky McFarland apparently turns Cotton into a monkey, which gets inside the Globe and trashes it.
This is possibly the same store Chubby Chaney visits in Bargain Day.

Shorts
---
Ad blocker interference detected!
Wikia is a free-to-use site that makes money from advertising. We have a modified experience for viewers using ad blockers

Wikia is not accessible if you've made further modifications. Remove the custom ad blocker rule(s) and the page will load as expected.