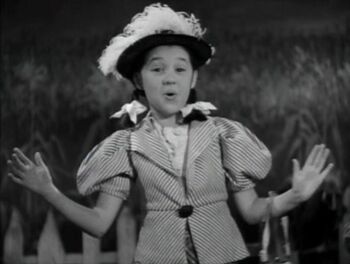 Bio
Georgia (Jean LaRue) is a student at Greenpoint Grammar School where she appears with Spanky McFarland, Alfalfa Switzer and Darla Hood. She performs as a singer in the school's Reunion In Rhythm singing "Mirandy" opposite Alfalfa in the "Hopeless Love" segment show for the alumni. Her singing seems to be good enough for Alfalfa to dream her into his Club Spanky dream where she appears with Philip MacMahon in the "The Love Bug" segment of Our Gang Follies Of 1938.

Georgia was played by Georgie Jean LaRue.

Shorts
---
Ad blocker interference detected!
Wikia is a free-to-use site that makes money from advertising. We have a modified experience for viewers using ad blockers

Wikia is not accessible if you've made further modifications. Remove the custom ad blocker rule(s) and the page will load as expected.