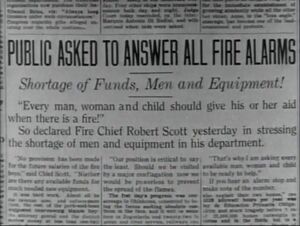 Bio
Robert Scott is the fire chief of the Greenpoint Fire Department in 1932. Due to a local loss of manpower, he asks the community through a local paper, possibly the Greenpoint Herald, for volunteers to help put out local fires. The article encourages Dickie Moore and Breezy Brisbane to create their own junior fire squad. Their bravery and loyalty even gets attention from members of the real fire department.
Shorts
---
Ad blocker interference detected!
Wikia is a free-to-use site that makes money from advertising. We have a modified experience for viewers using ad blockers

Wikia is not accessible if you've made further modifications. Remove the custom ad blocker rule(s) and the page will load as expected.