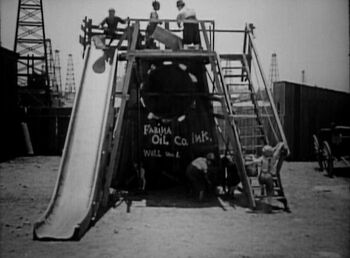 Bio
Farina Oil Co. Ink is the name of Farina's kiddie oil drilling franchise. When Farina hears that his mother needs two hundred dollars to pay the rent, he and the gang decide to drill for oil to raise the money they need. When they actually seem to strike oil, the landlord, Simon Sleazy, offers Farina's mother $50,000 for her equity in the property, little suspecting the oil they hit came from puncturing a pipeline to a neighbor.

Roll Call: Farina Hoskins, Harry Spear, Jackie Condon, Jay R. Smith, Joe Cobb, Mango.
Shorts
---
Ad blocker interference detected!
Wikia is a free-to-use site that makes money from advertising. We have a modified experience for viewers using ad blockers

Wikia is not accessible if you've made further modifications. Remove the custom ad blocker rule(s) and the page will load as expected.