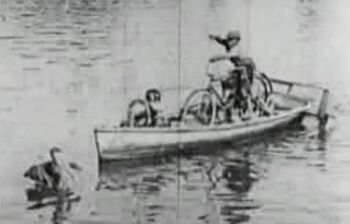 Bio
In The Buccaneers, Ernie steps out from a building right on the waterfront onto a rowboat which has a bicycle mounted on it. Pedaling the bicycle causes a paddle wheel to rotate in the back, propelling the boat forward. There is a fake steering wheel in front for Farina to play with.
Upon seeing this remarkable vessel, the gang invites Ernie to join after going through an initiation ceremony.

Shorts
---
Ad blocker interference detected!
Wikia is a free-to-use site that makes money from advertising. We have a modified experience for viewers using ad blockers

Wikia is not accessible if you've made further modifications. Remove the custom ad blocker rule(s) and the page will load as expected.