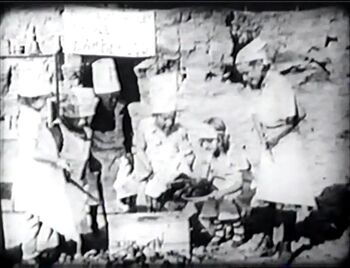 Bio
The Dugan's Alley Annule Barbercooe (Rascals "spelling") is an informal little picnic gathering the Rascals have which excludes Farina Hoskins. The exclusion results in Farina causing a ruckus at their picnic, and he throws a rock in a mudpuddle splashing all the picnic-goers.  The gang chases him away, and he eats too much food from a basket that falls off a delivery truck, which causes him to have a wierd dream.

The picnickers include Andy Samuel, Ernie Morrison, Jackie Condon, Joe Cobb, Mary Kornman, and Mickey Daniels.
Shorts
---
Ad blocker interference detected!
Wikia is a free-to-use site that makes money from advertising. We have a modified experience for viewers using ad blockers

Wikia is not accessible if you've made further modifications. Remove the custom ad blocker rule(s) and the page will load as expected.