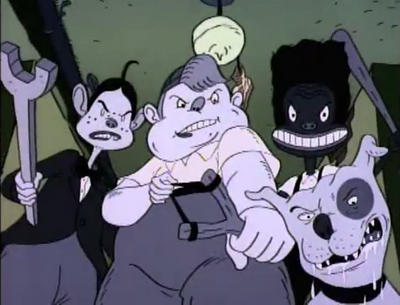 Duckman: Private Dick/Family Man is an adult animated sitcom created by Everett Peck, and developed by Arlene Klasky and Gábor Csupó. Premiering on the USA Network in 1994, the series focused on the crazy day-to-day life of detective Duckman (Jason Alexander), a widowed anthropomorphic duck.

References
Ride the High School, the sixth episode of the series, finds Duckman paying his teenage son Ajax (Dweezil Zappa) a visit at his high school. Duckman quickly learns that the school is one of the toughest in the city. While in the shcool hallways, he runs into a cockney accented janitor, who quickly leaves the scene when he hears "the gangs" coming. Duckman first encounters the Jets from West Side Story, who proceed to beat him up. He then meets Rascals Spanky, Alfalfa, Buckwheat, and Pete the Pup (all of whom are depicted in black-and-white), who also beat him up. The kids run off when Spanky suggests they go put on a show.

The episode title Noir Gang seems to be a reference to Our Gang.

Ad blocker interference detected!
Wikia is a free-to-use site that makes money from advertising. We have a modified experience for viewers using ad blockers

Wikia is not accessible if you've made further modifications. Remove the custom ad blocker rule(s) and the page will load as expected.