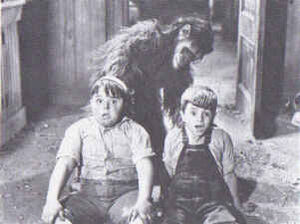 Production Notes
Length: One Reel
Producer: Metro-Goldwyn-Mayer
Director: Edward Cahn
Photography: Walter Lundin
Editor: Leon Bourgeau
Titles:
Writer: Robert A. McGowan and Hal Law
Released: April 4, 1942
Studio: M-G-M

Main Cast
Supporting Cast
The Short
Plot: Buckwheat has gradually been labeled a chronic liar by the others, so when he says he's seen a chimp at the local haunted house, the others are slow to believe him. Spanky and Mickey decide to scare Buckwheat by dressing Froggy as a chimp to discover at the old house where they run into the real thing, a trained chimpanzee which recently escaped from the circus in town.
Quotes:
Notes/Trivia:
The "local haunted house" in Greenpoint is probably the old house seen in Moan & Groan, Inc.

Considering the characters (Spanky in particular) have encountered numerous animals (among them a few monkeys) over time, it's a bit farfetched that they'd be scared by a playful chimp. This is just as logical as suddenly revealing that after numerous shorts that Buckwheat suddenly has a lying problem.

This short is credited by Maltin and Bann as one of the "heavy-handed" moralizing lessons which "sealed the lid on the coffin of the series."

Sequence
---
Ad blocker interference detected!
Wikia is a free-to-use site that makes money from advertising. We have a modified experience for viewers using ad blockers

Wikia is not accessible if you've made further modifications. Remove the custom ad blocker rule(s) and the page will load as expected.