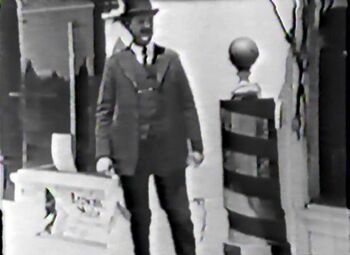 Bio
Detective Jinks is the Greenpoint Police Department's rather incompetent head of the investigation force in the kidnapping of Adelbert Wallingford. A title card remarks, "Detective Jinks -- He couldn't find John Smith in the city directory." The Rascals confuse him as a suspect in the crime, and capture him in their hideout. After he's released, he's more interested in wringing the kids' necks than in rescuing Adlebert.

Detective Jinks was played by Charles A. Bachman.

Shorts
---
Ad blocker interference detected!
Wikia is a free-to-use site that makes money from advertising. We have a modified experience for viewers using ad blockers

Wikia is not accessible if you've made further modifications. Remove the custom ad blocker rule(s) and the page will load as expected.