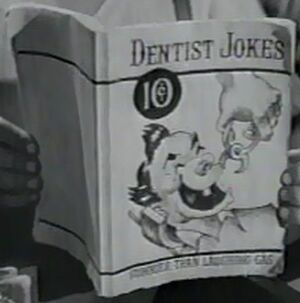 Bio
Dentist Jokes is a book of humor about dentistry available at Jasper's Bookstore. Inspired by Red Skelton, Froggy buys the book with the hope of beginning a career as a stand-up comedian before turning to Shakespeare, since the gang's attempts to use the book's jokes in Dr. Kilroy's office do not go over very well.

Shorts
---
Ad blocker interference detected!
Wikia is a free-to-use site that makes money from advertising. We have a modified experience for viewers using ad blockers

Wikia is not accessible if you've made further modifications. Remove the custom ad blocker rule(s) and the page will load as expected.