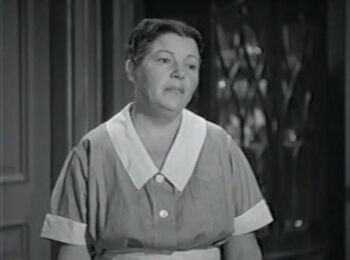 Bio
Delia is the housekeeper for the Hood Family. Dr. Hood mentions that she has been with the family since before Darla was born, and has acted like a mother to her after Mrs. Hood's death, which would be sometime after Men In Fright (October 1938) when Darla's mother is last seen and continues on to Wedding Worries (December 1941) when her father remarries a second time. She's a witness to the gang's shenanigans to break up the wedding.

Delia was played by actress Margaret Bert; she goes on to play Froggy's mother in Unexpected Riches and Janet's mother in Family Troubles.

Shorts
---
Ad blocker interference detected!
Wikia is a free-to-use site that makes money from advertising. We have a modified experience for viewers using ad blockers

Wikia is not accessible if you've made further modifications. Remove the custom ad blocker rule(s) and the page will load as expected.