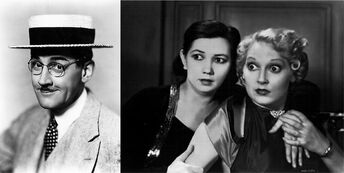 Length: Unrevealed
Producer: Hal Roach and Metro-Goldwyn-Mayer
Director: Unrevealed
Photography: Unrevealed.
Editor: Unrevealed
Titles:
Writer: Hal Roach
Released: Unreleased
Studio: M-G-M

Main Cast
Supporting Cast
The Short
Plot: Unknown
Quotes:
Notes/Trivia:
"Crook's Incorporated" was proposed by producer Hal Roach as Our Gang's feature film debut. Roach wrote the script himself; in early 1935, he contracted with Metro-Goldwyn-Mayer to produce it. The film was to costar Roach stars Charley Chase, Thelma Todd, and Patsy Kelly. The planned budget was $250,000. No further information about it is known.

Sequence
---
Ad blocker interference detected!
Wikia is a free-to-use site that makes money from advertising. We have a modified experience for viewers using ad blockers

Wikia is not accessible if you've made further modifications. Remove the custom ad blocker rule(s) and the page will load as expected.