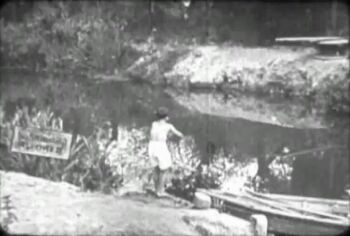 Bio
Coogan Lake is a lake close to Greenpoint, the hometown of the Little Rascals. It's the location where Joe and Farina reported where they tossed a local bully, Tuffy, after beating him up, but they're actually lying about it. Coincidentally, Tuffy swims in the lake to wash up after he stumbles over a fence near the lake while carrying a pie. The lake has a "No Swimming" sign, and a farmer shoots a rifle near Tuffy, causing him to swim away and leave his berry-stained clothes behind. When the clothes are found, he is thought to have been murdered and his body thrown into the lake, which causes Joe and Farina much anxiety as their story appears to have become true and they are accused of murder.
Coogan Lake was possibly named after Jackie Coogan, a famous Silent Film child star, who enjoyed greater popularity on TV playing "Uncle Fester" on TV's The Addams Family. Because of the loss of his fortune as a child actor, he helped create "Coogan's Law," which helped place the salaries of other child actors in to a bank fund to be held for them until they became adults.
Episodes
---
Ad blocker interference detected!
Wikia is a free-to-use site that makes money from advertising. We have a modified experience for viewers using ad blockers

Wikia is not accessible if you've made further modifications. Remove the custom ad blocker rule(s) and the page will load as expected.